Port Land Line to Google Voice
From falz.net

A few people have documented porting a landline to Google Voice by first porting to a cell phone. I was going to cancel my landline so I thought I would try this first. It appears that for about $30 total USD I can transfer my landline to Google Voice. T-Mobile's Transfer your phone number to T-Mobile page says my landline (TDS Metrocom) is OK to port.
2011-06-03: SIM arrived. Didn't do anything with it for a few days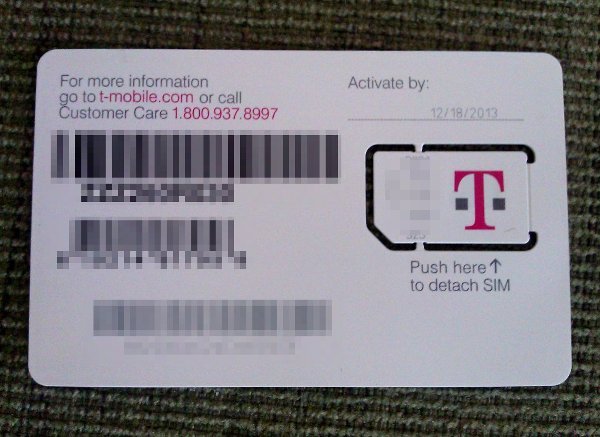 2011-06-06: A co-worker had a spare phone (T-Mobile G1) that I was able to borrow for activation.

Activated at http://www.t-mobile.com/PrepaidActivation which required this info

Activation code - 11 digit code comes with activation kit in the booklet.
Sim Serial # - 19 digit code written on SIM card in difficult to read grey text. Don't enter trailing letter.
Phone Serial # / IMEI - 15 digit code found under Settings-> About Phone-> Status. Probably also written on phone under battery, didn't check.
Personal info - name/email/password

Last step of activation is choosing a plan. I just chose Pay as you Go.
It immediately gave me my phone # on the website and also texted it to me.
2011-06-06: Port phone # to SIM card. Do so by calling 1-877-789-3106. Info I needed:

Newly activated T-Mobile phone #
My name
Mailing address of the number I'm porting
Account number of the number I'm porting. When logging into my payment gateway for company it just listed my phone number as account number
Pin number of the number I'm porting

They told me that I should call them back at the number above in 24-48 hours to check progress.
I requested a ticket #, it was 16 digits long.
2011-06-07: Checked on porting by callling 1-877-789-3106 again. I ended up being transferred twice.

First person said they needed to transfer me to the transfer department
Second person said they needed to transfer me to the wired or land line specific department
Third person said that she saw my request as acknowledged from my current telco. I was talking to her on this line at the time, she said that she was completing the request and there was a chance that we could be cut off. We weren't, she said it's effectively complete and that I should be receiving a text message when complete. For the next 24 hours after this calls coming in may go to the cell phone while call going out may still say they're from the land line. Or something like that.

When I got off of the phone I called my landline from a different cellphone. It immediately answered with a generic voicemail message. I left a voicemail to see what would happen but I've not yet received any notification of it.
About 45 minutes later my T-mobile phone indicated that I had a voicemail. I checked it and it was the message above. While checking it I also received a txt welcoming me to T-Mobile and indicating that my phone # was my newly ported one. I tried to call that # and it still goes directly to voicemail.
The next morning I checked on the status.

I attempted to make a call from T-Mobile to see if it showed the number correctly. I got a message saying I didn't have enough minutes on my account.
Logging into the website said I have 0 minutes and a $0.33 balance. Unsure what took the $3 I had, possibly background data?
I added the minimum refill amount which was $10.
I made calls in both directions and the number appears to be ported properly.
2011-06-08: Port T-Mobile # to Google Voice. Google will charge $20.

Initiated port from http://google.com/voice/. First step was to put in the # to port. Doing so it said it was going to dial me and I had to type in the two digit number on the screen.
Google needed my personal info as well as my T-Mobile account number and T-Mobile pin. T-Mobile's How do I get my account number? instructions were incorrect for me, they may only apply to accounts on contract. According to this guy the account number is just the phone #.
After agreeing to terms you are prompted to pay $20 to Google via Google Checkout. Did so.
After an hour or so I got an email saying I put in the incorrect pin- it was correct. Entered the correct one and resubmitted.
2011-06-09: Received email from Google that the number has been ported. Waiting a day to really test since who knows what # is where now.
Hello,

We're writing to let you know that your phone number: xxx-xxx-xxx has been successfully ported to Google Voice!

2011-06-10: Testing calls

Incoming calls to the ported number are indeed going to Google Voice and forwarding where I want (my cell phone).
T-Mobile phone has an x through its signal meter, appears to now be disabled.
Calling out from landline does ____? (todo)

Looking at Google Voice's settings for the first time, I want people in certain contact groups to ring my phone and any unknown number to go directly to voicemail. The option for this isn't obvious. Go into your Voice Settings:

On the Phone tab un-check your phones under "Forward calls to:"
On the Groups tab manually edit each group and choose options for it. I manually force which phone(s) to ring and to enable or disable call screening per group.
Total cost: $37.37.
Google Voice Notes
I found that when calling my newly ported number from my cell phone it brought me into the voicemail menu and asked for a pin when I really wanted it to ring. Go into Google Voice settings, Edit the phone, show Advanced Settings and change Voicemail Access to No.
The Group settings are not intuitive or documented well. My contacts were setup nicely in groups such as Friends, Family, Coworkers, and also by some other things such people I know by some sports played. If someone is a member of multiple groups and any of those groups are set to NOT ring any phones, this rule will win. Unfortunately the workaround was to put people only in one group each. I haven't tested what happens if people are in two groups and each of those is set to ring a different phone.